The Book:
Qi
Increase Your Life Energy
Qi energy

is no mystery. It's the life force, according to Chinese tradition. And it can be experienced by simple practice. That's what I wanted to show in my book.



The Book
The life energy qi (also chi or ki) explained, with several very easy exercises to awaken, increase, and use it. Click the image to see the book at Amazon (paid link).

Simple exercises
A number of years ago, I held a seminar at a New Age fare in my home town Malmö, Sweden. The theme for my seminar was Qi, the life energy, and how to experience it. I had learned that from my many years of aikido practice, something I started with as a teenager, back in 1972.
I didn't show aikido, but a few very simple and basic exercises by which to feel and increase the qi flow. That's easily done by a combination of breathing, awareness, and imagination.
The participants at the seminar gladly tried the exercises and were sursprisingly enthusiastic, although I had been quite rudimental. One of them said:
"This year I spent 15,000 (Swedish Crowns, approximately USD 2,200) on qigong courses. Why didn't they teach me this?"
The answer is probably that the teachers at those courses were either unsure of what qi is all about, or they hoped that he would spend another 15,000. Whatever the case, I was as upset as the man asking the question.
Qi is no mystery. True, you can spend a lifetime exploring it, but getting started is a piece of cake. The basics are easy to grasp and just as easy to practice. With the proper exercises you can try it out in no time and experience what it feels like.
I'm a writer, so at that point I started thinking about writing a book that would give these simple clues to its readers. Hopefully, it would save them the 15,000 Swedish Crowns disappointment.
You get the hang of it
Writing a book isn't done in a heartbeat, so there was a process of a few years before I was finished. I built it on the exercises I had used at that seminar and other exercises of the same kind.
The underlying principle was to use very simple and basic exercises accessible to all, regardless of physical fitness, age, and what not. That's really no problem, since qi is a very basic force in every living thing. Of course it's accessible to all.
So, here's the book. I'm very familiar with the subject since my teens, so I know I can promise everyone trying the exercises in the book that they will feel what qi is and how they can use it for their own health and spiritual benefit.
I say it again: it's no mystery, but very natural, so you easily get the hang of it. Those who tell you something else just want to charge you a lot more than the cost of a book.
The book
My book
Qi: Increase your life energy
explains how qi works and presents a number of very easy exercises by which you can cultivate and increase it within yourself. It's not difficult at all, and the result will invigorate you beyond your expectations. So give it a try.
For your qi to flow freely through your body, you need to make your posture straight and natural, and learn a deep extended breathing. You should also relax your body profoundly and center yourself. The exercises of this book are surprisingly easy ways to adjust these and other basics, which will lead to an increased qi flow and well-being. Anyone can do them, and the result is evident already at the first try.
For a lasting effect, though, you will have to repeat the exercises over a length of time. The best is if you make some of them everyday habits. It will improve the way your body and mind work, until it's natural to you. At that point, you have no further need of this book.
Stefan Stenudd
How to get the book
If you want to buy the book, you can do so at most Internet bookstores. Click the image below to see the book at Amazon. The link takes you to your local Amazon store (or to Amazon.com).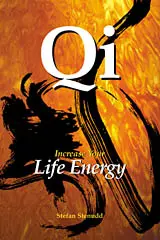 Click the header to visit the book's Facebook page.
Contents
Here is the book's table of contents:

Foreword 7
Introduction 9
Spirit and breath 10
The ether of intention 12
Let there be 12
Meridians 14
Chakra 15
The Center 15
The glowing rice field 17
Spirals 18

EXERCISES 21
One snag 22
Questioning 23
Settings 24
Place 24
Time 25
Dress 29
Posture 30
Find the right posture 31
Correct your shoulders 33
Adjust your balance 36
Stretch your posture 39
Sit 40
Meditate 45
Relaxation 51
Clench and open 53
Shoulders up and down 55
Grimace 56
Empty gaze 57
Huddle up 58
Hang 60
Rest heavily 61
Breathing 65
Extend your exhalation 66
Lower your breath 68
Belly breathing 71
Breathe in a square 74
Extension 78
Gaze 79
Point 83
Push 85
Pull 87
Grip 90
Walk 92
The Center 96
Center breathe in a square 100
Meditate the center 102
Sway 104
Press 107

Chakras 111
Seven chakras 112

Quick Guide 123

Samples
Here are two short chapters from the book, as Acrobat PDF files in computer screen resolution (72 DPI):

Qi: Increase your life energy.
by Stefan Stenudd, Arriba 2008, 2009, 2015
Paperback, 145 pages
ISBN: 978-1-5172-3930-5
Printed by CreateSpace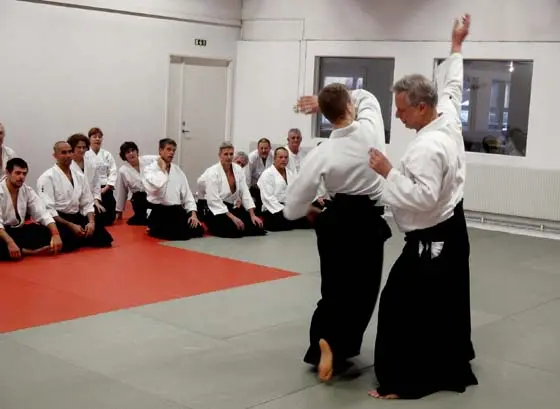 Me showing an aikido technique at my dojo Enighet in Malmö, Sweden.
About me
I'm a 7 dan Shihan aikido instructor, member of the Swedish Aikido Grading Committee, former President of the Swedish Budo & Martial Arts Federation and Vice Chairman of the International Aikido Federation. I've practiced aikido since 1972. Aikido, too, evolves around the life energy. But the exercises in this book can be done by anyone, with or without experience of Eastern traditions.
I'm also a writer of both fiction and non-fiction. Among the latter is an interpretation of the Chinese classic Tao te ching, and books about aikido.
---
My Books About Life Energy
Here are the two books I have written on the subject of life energy. This website contains some of the material from the first one.
Click the image to see the book at Amazon (paid link).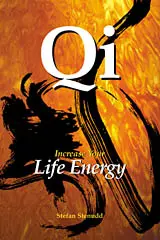 Qi — Increase Your Life Energy
The life energy qi (also chi or ki) explained, with several very easy exercises to awaken, increase, and use it.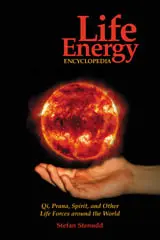 Life Energy Encyclopedia
Qi, prana, spirit, ruach, pneuma, and many other life forces around the world explained and compared. Click the image to see the book at Amazon (paid link).

---
---
My Other Websites
The many life force beliefs all over the world, ancient and modern, explained.
---
Taoism, the old Chinese philosophy of life, based on
Tao
, the Way. Also, the complete
Tao Te Ching
translated and explained.
---
Aikido, the peaceful martial art. Its basics, principles, techniques, and more — in texts, images and videos.
---
The 64 hexagrams of the Chinese classic
I Ching
and what they mean in divination. Free online reading.
---
Other Books by Me
Click the image to see the book at Amazon (paid link).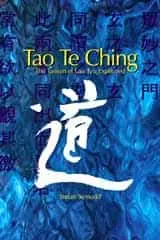 Tao Te Ching
The Taoism of Lao Tzu Explained
The great Chinese classic, translated to English and extensively commented.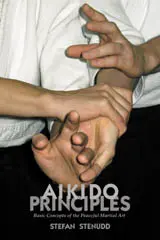 Aikido Principles
Basic Concepts of the Peaceful Martial Art
Aikido principles, philosophy, and basic ideas.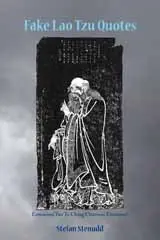 Fake Lao Tzu Quotes
Erroneous Tao Te Ching Citations Examined. 90 of the most spread false Lao Tzu quotes, why they are false and where they are really from.

---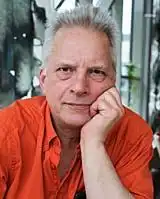 About Me
I'm a Swedish author and aikido instructor. I've written several books about aikido, qi energy and other life force concepts. I'm also an historian of ideas, researching the thought patterns in creation myths.
Click the image to get to my personal website.